Konsepte: Die liefde van Jesus is wonderbaar
Wat maak 'n Christen met allerhande gedagtes, idees en norme wat daagliks opduik en wat sy of haar lewe probeer binnedring of wil manipuleer? Waar kry mens die waarheid en regte antwoorde en vanwaar kom daar raad? Die maatstaf vir die gelowige bly Gods Woord. Die Bybel belig alle aspekte van die mens se lewe, hetsy direk, of oorkoepelend en oorsigtelik. Dit bly egter die gelowige se ernstige plig om te bid, die Bybel te bestudeer en die Heilige Gees te vertrou om mens te lei en te leer.

Vir ons volledige inleiding sien: Konsepte: Volledige Inleiding
Konsepte wat onder die soeklig kom is:

Die liefde van Jesus is wonderbaar
Een van die belangrikste besluite wat ín Christen kan maak, is om in vaste geloof aan te hou onthou dat Jesus se liefde wonderbaar is. So groot was God se liefde dat Hy Sy Seun gestuur het om ín aaklige kruisdood vir ons sondes te sterf, om so ons te reinig van ons sondes. God wat allerheilig is, haat die sonde, maar Jesus was bereid om in ons plek die offer vir die ganse mensdom se sondes te bring. Die Vader het die offer aanvaar en Jesus het opgestaan en het opgevaar na die hemel, waar Hy aan die regterhand van die Vader sit.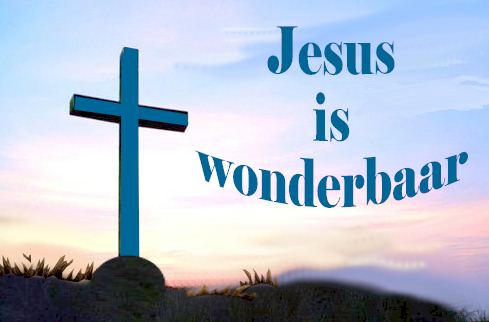 Jesus se liefde was en is so groot, dat Hy selfs die kruuste sondaars roep. Die Bybel toon Jesus se liefde op baie maniere. Nie alleen het Hy alles in prag geskape nie, maar selfs in die sondevervalle wÍreld, wat gebuk gaan onder die mens se sondes, sien ons nog besondere pragtige natuurskoon tonele. (Romans 8:22 ― Geneva Bible 1599. For we knowe that euery creature groneth with vs also, and trauaileth in paine together vnto this present.) Jesus onderhou ook nog elke enkele sekonde, ja dag vir dag die natuur en alles daar in.
Die Bybel vertel baie kere van wonderwerke. Siekes wat genees was, lewens wat verander was en groot gebeure wat die geskiedenis van die mens ingrypend verander het. Die hoofstroommedia praat dalk nie so hard daaroor nie, maar wonderlike dinge gebeur nog vandag. ín Kind wat ernstig siek is, genees meteens sonder rede, ín erg verslaafde kom los uit die bande van die dwelms en drank, ín swetsende maghebber kom tot inkeer en word ín gelowige, en in blyplekke waar die Here vir lank geÔgnoreer was, is die Bybel nou weer afgestof en word dit ín lewende woord in daardie gesinne se lewens.
Hoe kan Jesus wat Judas, Sy verraaier se voete gewas het, terwyl Hy terdeŽ bewus was van die komende verraad, se liefde sommer taan? Nee, die liefde van Jesus was en is wonderbaar en ver bo ons verstaan en inneem. Laat ons Sy liefde vir ons met vreugde en oorborrelende DANKBAARHEID glo en aanvaar en tot God die Vader se eer uitleef in ons lewens.
Die liefde van Jesus is wonderbaar, wonderbaar, wonderbaar.
Die liefde van Jesus is wonderbaar, wonderbaar vir my.
Vir my't Hy gesterf en gered van verderf.
Ja, Jesus het my lief.
Wonder jy dalk oor God die Vader se liefde? Lees gerus die gelykenis van die verlore seun hieronder. (Luke 15:11-22― Geneva Bible 1599). God die Vader se liefde is dieper, sterker en groter as wat jy ooit sal kan peil. En ja, so ongelooflik wonderlik as wat dit mag klink, ook vir jou en my.
(Luke 15:11-22 ― Geneva Bible 1599)
11 He sayde moreouer, A certaine man had two sonnes.
12 And the yonger of them sayde to his father, Father, giue mee the portion of the goods that falleth to mee. So he deuided vnto them his substance.
13 So not many daies after, when the yonger sonne had gathered all together, hee tooke his iourney into a farre countrey, and there hee wasted his goods with riotous liuing.
14 Nowe when hee had spent all, there arose a great dearth throughout that land, and he began to be in necessitie.
15 Then hee went and claue to a citizen of that conntrey, and hee sent him to his farme, to feede swine.
16 And hee would faine haue filled his bellie with the huskes, that the swine ate: but no man gaue them him.
17 Then he came to him selfe, and said, Howe many hired seruaunts at my fathers haue bread ynough, and I die for hunger?
18 I wil rise and goe to my father, and say vnto him, Father, I haue sinned against heaue, and before thee,
19 And am no more worthy to be called thy sonne: make me as one of thy hired seruants.
20 So hee arose and came to his father, and when hee was yet a great way off, his father sawe him, and had compassion, and ranne and fell on his necke, and kissed him.
21 And the sonne sayde vnto him, Father, I haue sinned against heauen, and before thee, and am no more worthie to be called thy sonne.
22 Then the father said to his seruaunts, Bring foorth the best robe, and put it on him, and put a ring on his hand, and shoes on his feete,

Nog verse om op te volg:
Ephesians 3:17-19 ― Geneva Bible 1599
17 That Christ may dwell in your heartes by faith:

18 That ye, being rooted and grounded in loue, may be able to comprehend with al Saints, what is the breadth, and length, and depth, and height:

19 And to knowe the loue of Christ, which passeth knowledge, that ye may be filled with all fulnesse of God.


Jesus het vir ons gesterf toe ons nog sondaars was.
Romans 5:7-9 ― Geneva Bible 1599
7 Doutles one will scarce die for a righteous man: but yet for a good man it may be that one dare die

8 But God setteth out His loue towards vs, seeing that while we were yet sinners, Christ died for vs.

9 Much more then, being now iustified by His blood, we shalbe saued from wrath through Him.


Romans 8:28 ― Geneva Bible 1599
28 Also we knowe that all thinges worke together for the best vnto them that loue God, euen to them that are called of His purpose.


Jesus ken ons trane.
Psalms 56:8 ― Geneva Bible 1599
8 Thou hast counted my wandrings: put my teares into Thy bottel: are they not in Thy register?


'n Wonderbare genesing
John 5:14 ― Geneva Bible 1599
14 And after that, Iesus founde him in the Temple, and said vnto him, Beholde, thou art made whole: sinne no more, lest a worse thing come vnto thee


Ephesians 5:25 ― Geneva Bible 1599
25 Husbands, loue your wiues, euen as Christ loued the Church, and gaue Himselfe for it,


Ephesians 5:1-2 ― Geneva Bible 1599
1 Bee yee therefore followers of God, as deare children,

2 And walke in loue, euen as Christ hath loued vs, and hath giuen Himselfe for vs, to be an offering and a sacrifice of a sweete smellling sauour to God.


Een van die bekendste en wonderlikste verse in die Bybel.
John 3:16-17 ― Geneva Bible 1599
16 For God so loued the worlde, that Hee hath giuen His onely begotten Sonne, that whosoeuer beleeueth in Him, should not perish, but haue euerlasting life.

17 For God sent not His Sonne into the world, that He should condemne the world, but that the world through Him might be saued.


1 John 4:19 ― Geneva Bible 1599
19 We loue Him, because He loued vs first.